Times Higher Education
"This is a deeply serious enquiry into community responsibility and democratic possibility, thought-provoking, morally alert and socially engaged."

Ken Paulson, president of the First Amendment Center
"Steven Tepper's Not Here, Not Now, Not That! offers invaluable insights into how social change and uncertainty drive protests over art. With fresh data and perspectives, Tepper makes a compelling case that cultural conflicts are largely homegrown, tied to each community's shifting demographics and values. It's an eye-opening work."

Andrew Perrin, University of North Carolina at Chapel Hill
"Tepper draws a crucial link between controversy about art and the other social conflicts that consume Americans. Treating the controversies sensitively and critically, the book demonstrates clearly that meanings, ideas, symbols, and art are an important arena for contests over community and morality. It illuminates the culture wars by showing the roots and stakes of culture conflicts."

Frederick Schauer, University of Virginia
"There has been a great deal written over the last several decades about the so-called culture wars and related issues of art, arts policy, and artistic censorship. Tepper's book, by deploying the analytical and empirical tools of modern sociology and avoiding the advocacy and name-calling so characteristic of these controversies, has provided new insights and new data on a topic about which it had seemed there was nothing more to be said. The book is an important and much-needed addition to the literature on arts policy."

Robert Wuthnow, Princeton University
"Not Here, Not Now, Not That! is an impressive achievement. Its rich analysis of data from media sources and surveys is by far the best evidence anywhere about the nature and extent of cultural conflicts involving the arts. The extensive city-by-city comparisons contribute importantly to our understanding of local variations and the effects of local conditions on these conflicts. I highly recommend this valuable and engaging book."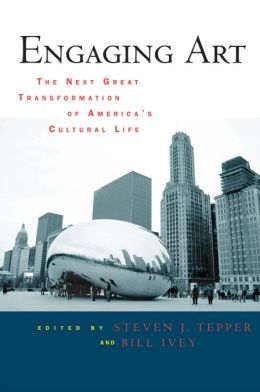 Engaging Art: The Next Great Transformation of America's Cultural Life with Bill Ivey (Routledge, 2007)
Public blog discussion about Engaging Art at ArtsJournal.com
Conclusion -Leveraging Policy and Research to Advance Cultural Vitality
Purchase through Routledge
"Arts participation has long been treated by arts policymakers as a black box with meters reading 'number of eyeballs' or 'number of derrieres in seats.' Engaging Art peeks inside the box, showing the complexity, multi-facetedness, and variety of forms that engaging with the arts takes in America today."—Larry Rothfield, Faculty Director, Cultural Policy Center at the University of Chicago.
"For anyone who wants to come to grips with the shape and trajectory of contemporary cultural life, Engaging Art will be indispensable. …  Tepper and Ivey have set a new agenda for cultural analysis."—Wendy Griswold, Northwestern University and the University of Oslo
"Engaging Art is a superb, thoroughgoing survey of the rapidly changing nature of American cultural activities at the turn of the millennium.  Forty years after the creation of the National Endowment for the Arts, the editors and contributors make a conclusive case for democratizing and diversifying our policy concept of 'public arts participation.'"—Douglas Dempster, Marie and Joseph D. Jamail Senior Regents Professor in Fine Arts, Interim Dean of the College of Fine Arts, University of Texas at Austin
"Just the book I've been waiting for: a serious inquiry into the ways that participatory media practices, intercultural diversity and upper end occupational demands are reshaping how we engage in and value the arts. Engaging Art identifies challenges that all of us involved in educating artists or producing and presenting the arts will need to face, and the sooner, the better."—Steven D. Lavine, President, California Institute of the Arts
"The splendid group of authors collected in Engaging Art sheds new light on what it means for citizens to engage with the broadest range of art forms and activities. The issue addressed is whether popular engagement with art matters in a democracy –and the answer is that it does, though not perhaps in ways that readers will expect. This is one of the most important books ever written on the significance of arts participation."
—Stanley N. Katz, Director, Center for Arts and Cultural Policy Studies at the Woodrow Wilson, Princeton University
"Engaging Art addresses two fundamental questions: "1) What is the state of cultural participation and engagement in the United States; and 2) How is participation changing?" … The contributors provide an extensive historical overview of arts participation in the United States; employ quantitative and qualitative resources to illustrate growth and decline in major arts disciplines; and introduce discussions about art making, art consumption, and choice." Lisa L. Higgins and Teresa Hollingsworth, Western Folklore, volume 69-2
Political and Cultural Dimensions of Tea Party Support, 2009-2012. Sociological Quarterly
Looking Back, Looking Forward: Arts Based Careers and Creative Work. 2014.  Work and Occupations.
Culture in Crisis: Deploying Metaphor in Defense of Art. 2014.  Poetics
Creative Assets and the Changing Economy. 2002.  Journal of Arts Management, Law and Society.
Stop the Beat: Quiet Regulation and Cultural Conflict.  2009. Sociological Forum.
Creativity Narratives Among College Students Sociability and Everyday Creativity.  2009. Sociological Quarterly.